Ingredients
4 ounces fish (sea bass or tilapia)
Olive oil spray
Salt and pepper
1 cup broccoli
1/2 cup quinoa, cooked
2 tablespoons scallions
1/4 avocado, diced
1/2 lemon
Directions
Preheat a baking sheet in the oven at 450°F.
Lay out a piece of aluminum foil, lightly spray your fish with olive oil, and season with salt and pepper on one side, then repeat on the other side.
Remove the hot pan from the oven, keep the prepared fish on the sheet of aluminum foil, and place it on top of the pan. Return it to the oven, and cook for 8 to 10 minutes.
Meanwhile, steam broccoli in a basket or in the microwave, and plate. Then add the quinoa, scallions, and avocado to your plate.
Remove fish from the oven, and let it rest for 1 minute before plating. Grab your lemon, and give your whole plate a good squeeze of fresh lemon juice before enjoying.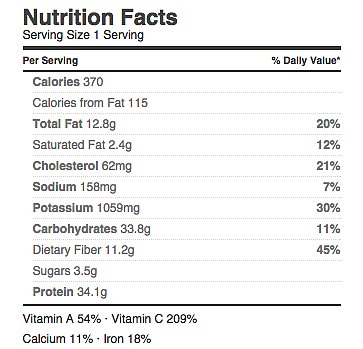 Courtesy of Julie Upton, MS, RD
Visit SeafoodWatch.org for recommended fish sources